In Khao Laem National Park in Thailand, a project is committed to conserving Thai tigers and doubling their population.
The project uncovers the persistence of threats, particularly poaching and ecological disturbances, prompting intensified protection measures.
The project aims to strengthen community involvement and enhance park management to ensure a brighter future for these magnificent creatures.
In the heart of Thailand's Khao Laem National Park, an ambitious project is underway to secure the Thai tiger population through the implementation of sound conservation practices. The ultimate goal? To double the number of these majestic creatures, aligning with the Thai Tiger national strategy.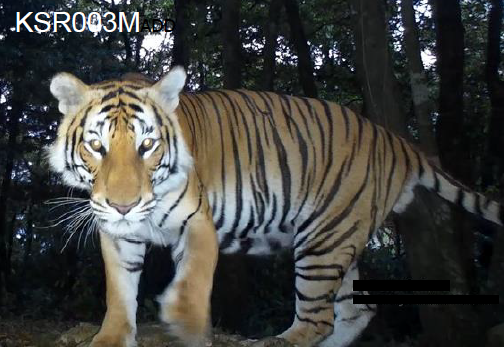 The location
Thailand plays a crucial role in the preservation of the Indochinese sub-species of Panthera tigris (Panthera tigris. corbetti) and serves as one of the final refuges for tigers in the Greater Mekong region. However, many challenges still remain in protecting and conserving the species.
Within the Western Forest Complex (WEFCOM) of Thailand, encompassing 17 protected areas, Khao Laem National Park stands as a key component. This park is part of WEFCOMs vast, contiguous 18,000km2 transboundary landscape, one of only two regions in the country where wild tigers still roam freely.
In a country with a total population of only 150-200 wild tigers, sightings are a rarity. However, over the course of the project, approximately 13-15 individual tigers have been identified in Khao Laem through camera trap images. Of these, three tigers were traced back to adjoining protected areas via images in the national database.
Long-Term Impact: Doubling Tiger Numbers
The project's primary long-term objective is to protect and rejuvenate the Thai tiger population in Khao Laem National Park. Throughout the latest phase of this initiative (phase 5), detailed information about tigers, their prey, and the threats they face has been consistently generated from monitoring surveys. This valuable data is then shared with the park management, as well as the research station at Huai Kha Kheng Wildlife Sanctuary. Notably, this project's findings have contributed to the national tiger information database.
These surveys have unveiled a stark reality. Evidence of turnover among the resident tiger population suggests underlying influences or threats that demand further investigation and resolution. Anthropogenic disturbances have emerged as significant concerns. Poaching incidents, particularly tiger-specific ones in adjacent Thong Pha Phum National Park, have been particularly alarming. To combat these threats, efforts have been ramped up through rapid-response training and advanced monitoring methods.
Successes in the first half of 2023
The project's success can be measured by the continuous monitoring of tigers using long-term monitoring surveys and the diligent recording of SMART data during patrols. Notably, training initiatives have equipped rangers for their roles, with efforts reaching both the eastern and western sectors of Khao Laem. In the first half of this year, this project increased the size of the long-term monitoring area to landscapes outside of the regular grid in response to reports of tigers entering those areas.
Unfortunately, so far this year no breeding was recorded. However, sharing data with DNP and partners increased the catalogue of identified tigers. Additional work is required to catalogue and analyse data to update the tiger and prey abundance figures. Khao Laem's data is now very much integrated with the DNP's data and that of a bilateral consortium to understand where the optimum tiger conservation sites exist.
Additionally, educational outreach and conservation awareness programs have been conducted, involving local schools and communities. The removal of domestic stock from within the park is also in progress to ensure more grazing opportunities for prey species.
Understanding and Addressing Threats
The central aim of this project is to gain a precise understanding of the tiger and prey populations within Khao Laem National Park, thereby facilitating tiger dispersal and recovery. As a result of this project, heightened awareness about the threats to tigers and prey in Khao Laem has permeated both park management and regional authorities. Over consecutive years, the surveys have validated the persistence of tigers, with some prey species showing slight increases while others have declined due to factors like African Swine Fever.
To ensure the success of park protection, officials are urged to improve the rate of poacher interdiction and address issues like illegal cattle grazing and ecological disturbance. The introduction of a full-time outreach team is proposed to build stronger relationships within poaching communities.
While the path ahead requires increased resources and well-trained rangers, the first half of 2023 has already witnessed notable improvements in park management.
Effective approach to counter poaching of the Malayan tiger
Defying the odds, new Perhilitan-Panthera study shows an effective approach to counter poaching of the…